System Settings
In the links to the right you will find details to the other Ouvvi Settings such as User settings and profiles, encryption and the connection library.
Below we will cover the various settings you can configure within your Ouvvi System Settings. If you do decide to make any changes, please make sure to click Save at the bottom of your System Settings page.
Administration & Support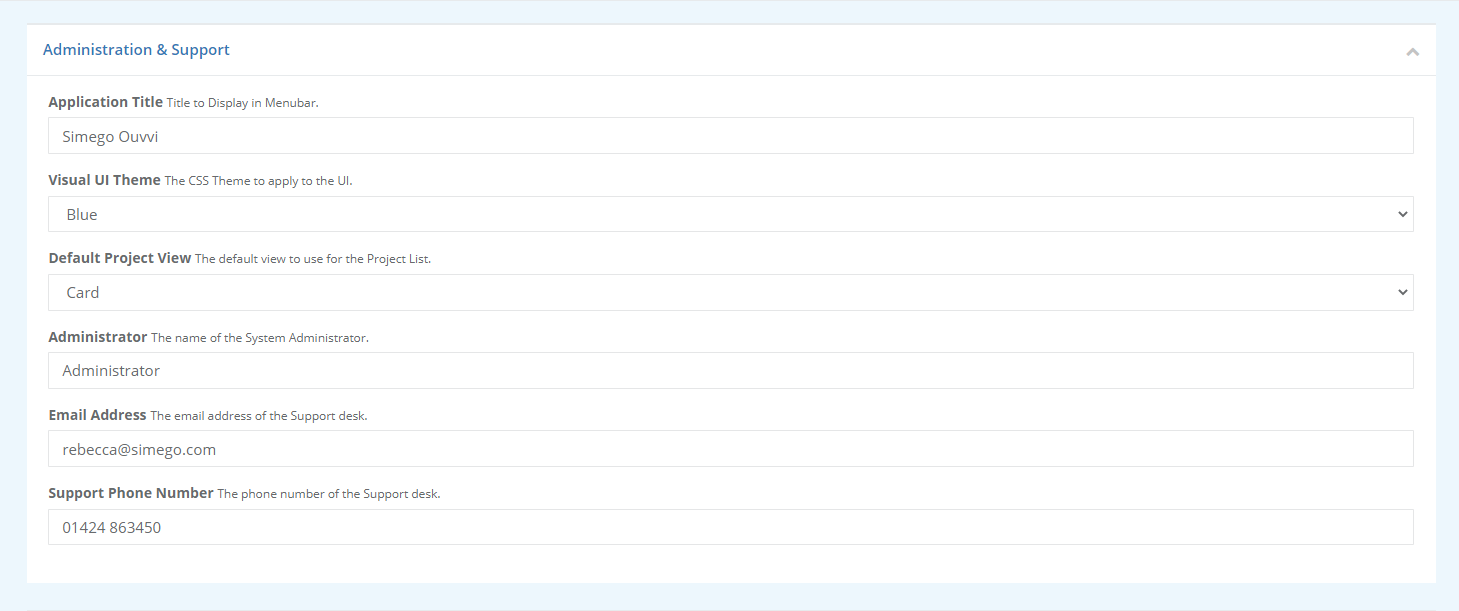 In this section you can configure the name of your Ouvvi Instance, change the colour theme, change the view, and set the system administrator details.
The email address entered here will be the default from address if you send any emails from your Ouvvi Server.
Regional Settings

Set the locale to your preferred region to specify the way Ouvvi displays numbers, dates and time. You can also set the default time zone of your Ouvvi instance.
SMTP Email

Ouvvi does not support anonymous server settings so you will need to enter in valid user credentials
Use this section to configure your SMTP settings so that you can send email reports etc.
| Parameter | Value |
| --- | --- |
| Username | Your SMTP Server Username. |
| Password | Your SMTP Server Password. |
| SMTP Server | The SMTP Server name for sending emails. For outlook this is smtp.office.365.com. |
| Port | The SMTP Server port. For Outlook this is 587. |
The checkbox specifies whether your SMTP server uses SSL or not.
Triggers

Define a start of day and end of day time for your operations. These are set to 8am and 6pm by default.
Services

Set the timeout's, default retry count and the queue sleep time.
| Timeout | Definition |
| --- | --- |
| Operation Long Poll Timeout | Define the number of seconds before the operation API poll times out. By default this is set to 10 seconds. |
| Background Service Timeout | Define the number of seconds between each background service poll. By default this is set to 300 seconds. |
| Message Queue Timeout | Define the number of minutes to wait before a step is considered to be failed. If you expect to have a long running step, change this so that it does not return failed before completing. By default this is set to 240 minutes. |
Data Synchronisation Studio
Set the folder where you would like the Data Sync snapshot files to be stored and determine if you would like to save the change set data by default.