Editing a Data Sync Project from Ouvvi
Here we cover how to edit a Data Sync project when it is stored in Ouvvi as this is a different project file to any Data Sync projects stored within the local machine files.
The Data Sync projects contained within Ouvvi are stored in the Ouvvi database rather than the local file system.
You must log into Ouvvi and get a copy of the project to be able to make changes.
Opening from Ouvvi
Open the Data Sync step you wish to edit from within the Ouvvi project. Then click onto the Open Project button which will download a copy of the Data Sync project to your local files.

You need to open this file from the download notification popup to keep it connected to Ouvvi.
When Data Sync has opened you can tell it is connected to Ouvvi in four ways:
1- By the URL in the topbar of the window, if you can see the URL to your Ouvvi site it is connected and making use of the Ouvvi Connection Library.
2- The title of the Connection Library window will show as Connection Library [Ouvvi]
3- In the output window where it will show the connection to the Connection Library is the Ouvvi API.
4- The registry connection in the window footer will show as the URL to the Ouvvi connection library.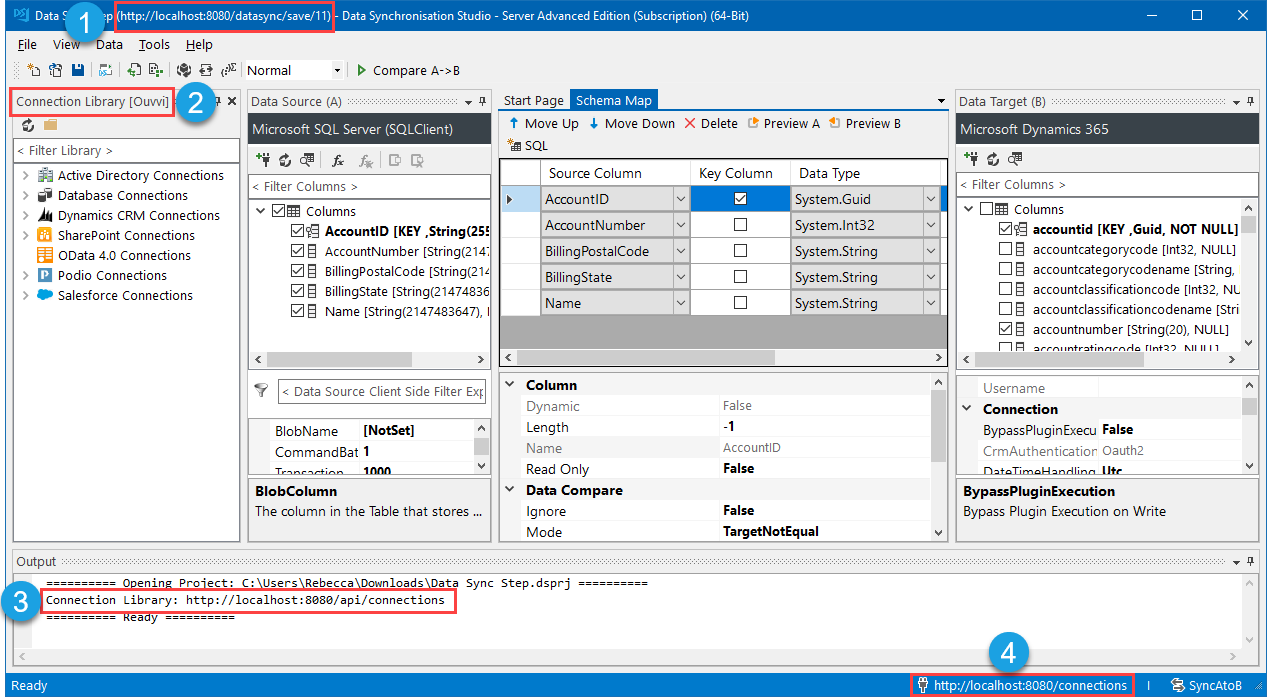 If there is no URL in the top bar then you are using your local Data Sync connection from the machine you are working from, and you will need to repeat the steps above to get a connected project or use the upload option below.
Once you have made your changes you can save the project in Data Sync and the changes will be made. In your browser, refresh the Ouvvi step page and your changes will be shown.
Uploading a new Project File
If you would rather work on your Data Sync projects locally you can upload an updated Data Sync project into Ouvvi.
To do this browse to the step you want to upload your file to and click Edit.

Scroll to the configuration and select the Choose File button. Now browse for the Data Sync project you want to upload and click Open. To save the changes click