Introduction to Data Synchronisation Studio
Data Synchronisation Studio is a Application to connect and synchronise Data between systems.
DS3 tackles the concept of Import, Export and Synchronisation in a unique way. Rather than looking at events or messages in queues which are typically complicated distributed systems and error prone. DS3 takes the approach of Set based Reconciliation with instant Data preview and NO State. This allows DS3 to operate exactly the same way every time to guarantee consistency and high performance through set based data sets.
To learn more about how to use Data Sync and how to get started visit our Data Sync Training Pages.
System Requirements
.NET Framework v4.7.2
Windows Server 2016, 2019
Windows 10
2 GB RAM
1 CPU Core
50 GB Disk Space
Ouvvi requires SQL Server 2017 or higher (Express, Standard or Enterprise) Database and IIS 8.0+.
Server
The Server Edition of Data Synchronisation Studio provides the Data Sync Designer and Ouvvi Automation Server and is intended to be run on a single machine for both Development and Production use.
Production Use
Design and Development via RDP
3 Ouvvi Instances
Single Machine Activation
Server Plus
The Server Plus License supports activation on 3 machines for a typical DEV/UAT/PROD configuration. It can be used to run your main production machine and then have 2 activations available for development work.
Production & Development Use
9 Ouvvi Instances
3 machine activations
Server Advanced
The Server Advanced License is a company wide license for use on multiple machines. If you need a team of developers working on your data integration projects then this is the best license to use.
Multiple machine use for multiple environments such as DEV/CI/SIT/UAT/PROD/DR etc.
Install on your local workstation for local development work
Company Wide License
For Production & Development use
30 Ouvvi Instances
30 Machines Activations
Install
Installation is via a Windows installer package. To download the latest version please see our download page.
Evaluation
Evaluation keys can be requested from inside Data Sync or from the website. You will need a Simego account to request a key from Data Sync.
The evaluation license will enable you to test all the features of Data Sync, however you will only be able to run the projects interactively. If you would like to schedule your projects please contact us on the helpdesk to discuss testing our scheduling options.
Full details on obtaining an evaluation key can be seen here.
License Key Activation
Data Synchronisation Studio (Data Sync) is activated with your license key via your internet connection against https://www.simego.com. The activation is refreshed automatically every 15 days to keep the activation alive.
When you first open Data Sync you will be presented with an activation window.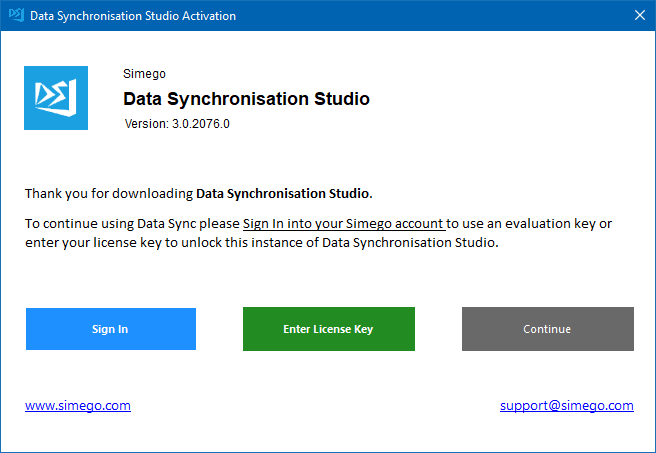 You then have 3 choices:
Sign In: Sign in to your account either browse for your license key or request and activate a trial license if you don't have a license key.
Enter License Key: If your license is registered to a different account, you can enter in the license key directly by clicking here
Continue: This will close the window but you will not enable any features.
If you close the window by mistake then you can re-open it by going to Help > Register License.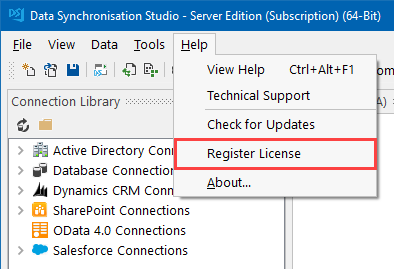 Activate by Signing In
If you select Sign In a new tab will be opened in your default browser where you will be prompted to sign in to your Simego account.
If you forget the password to your Simego account you will need to reset it here

If you do this during the process of activating you will be redirected to the account page instead of the activation page. To get to the activation page go back to Data Sync and click onto the Sign In & Activate link in the Activating License window
Once you have signed in you will be shown all of the license keys registered to your account that are valid to use. Click onto the Activate button beneath the license you want to use.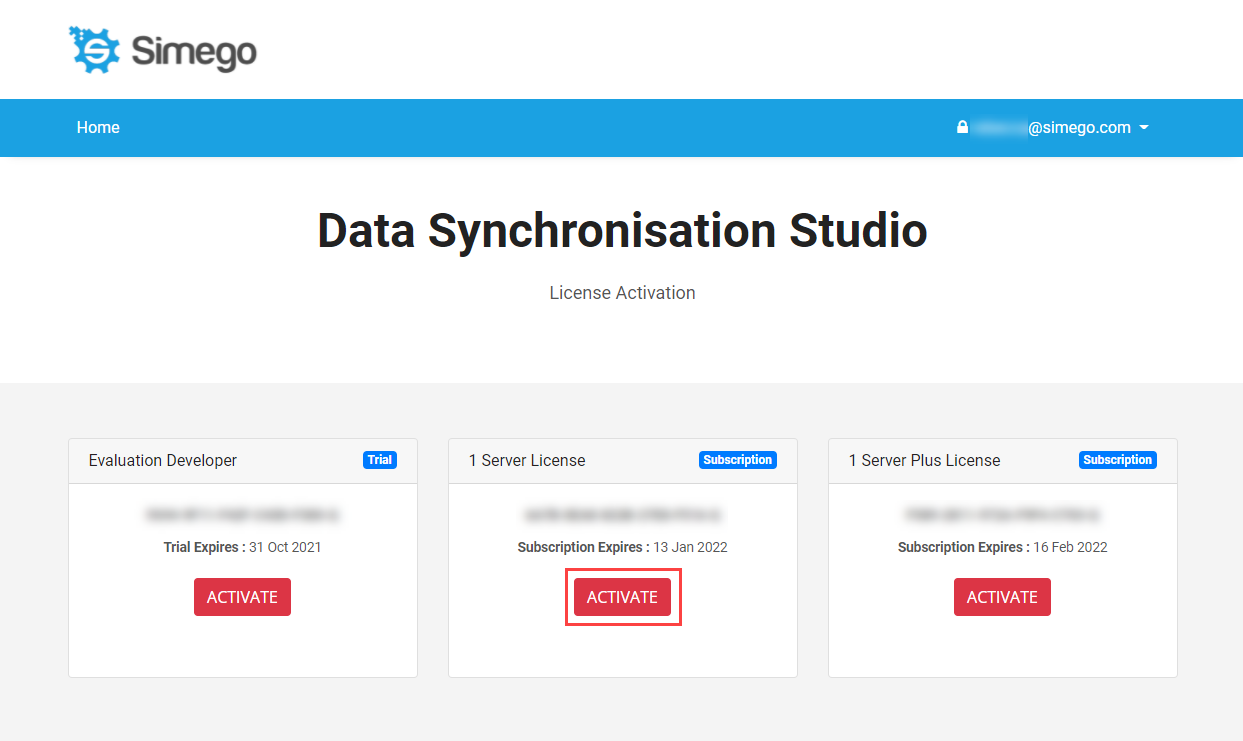 Enter A License Key to Activate
If you select Enter License Key this will then open the Register License Key window. Just enter your license key and click OK.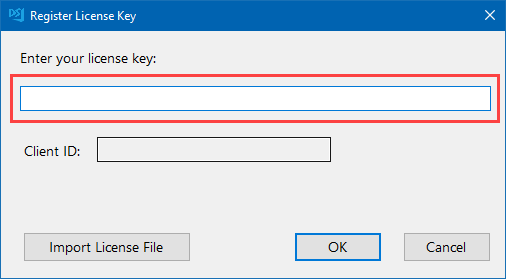 If you do not have an internet connection and need to activate your key, please see our page on Manual License Key Activation. Otherwise take a look at the troubleshooting section below if you are having issues.
Moving the License
If you need to change your machine that has your license activated, log onto your account at Simego.com. Then locate the license and corresponding machine (Client ID) and delete the activation.
Please note you cannot remove offline license files, only online activations.
NB: Remember to uninstall Data Sync from your old machine so then it does not attempt to re-activate.